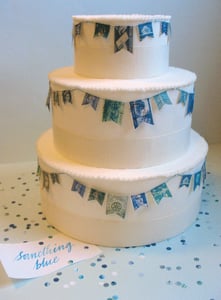 $

100.00
Featured in Martha Stewart Weddings!
Festoon that pretty cake with a festive garland of vintage stamps - each a unique mix of every shade of blue and a world of details.
Each stamp is cut and scored by hand and is adjustable on the line. Made with quality red beading twine and archival glue.
This item is three garlands for a 3 tier cake - 6, 8 and 10 inch tiers. Each garland is different, it will vary from the exact stamps pictured.
Please contact us to add additional tiers of any size to this order or about a specific color you don't see.
Garlands for cakes in other sizes are available to order, please contact us.