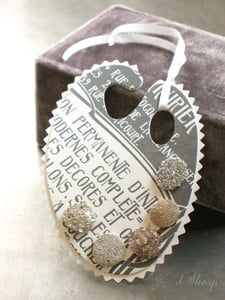 $

12.00
A creative greeting, gift embellishment or ornament inspired by Victorian trade cards. Letterpress in soft black ink with dabs of glittery paint - a mix of vintage and new.
Back of palette has subtle letterpress border and a fitting quote by Emerson:
A friend might well be reckoned the masterpiece of nature.
Each palette is two layer, thick card stock approx. 3 x 5 inches. Tied with thin white silk ribbon.